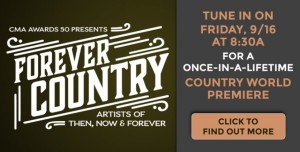 KRTY is proud to bring you another first in Country Music!
To celebrate the 50th Anniversary of the CMA Awards, 30 of Country Music's current and legendary superstars have come together to create the biggest event in Country Music! Be sure to tune-in to KRTY to hear the world premiere of "Forever Country" on Friday, September 16th at 5:30am (PST) on country radio!
5:30am Just a bit too early for you? Don't worry! KRTY will re-broadcast "Forever Country" again at 8:30am (PST).
Lyrics and Artisit:
[Brad Paisley] Almost heaven, West Virginia
[Keith Urban] Blue Ridge Mountains, Shenandoah River
[Tim McGraw] Life is old there, older than the trees
[Faith Hill] Younger than the mountains
[Tim McGraw and Faith Hill] Growin' like a breeze
[Little Big Town] Country roads, take me home
[Luke Bryan] To the place
[Luke Bryan and Miranda Lambert] I belong
[Miranda Lambert] West Virginia,
[Luke Bryan] Mountain momma
[Blake Shelton] Take me home,
[George Strait] Country roads
[Kacey Musgraves] (If I should stay)
[Eric Church] All my memories, they gather 'round her
[Kacey Musgraves] (I would only be in your way)
[Ronnie Milsap] A Miner's lady, stranger to blue water
[Charley Pride (Musgraves Harmony on 2nd half)] (So I'll go, yet I know)
[Dierks Bentley] Dark and dusty, painted on the sky
[Trisha Yearwood] (I'll think of you each step of the way)
[Dierks Bentley] Misty taste of moonshine, teardrops in my eyes
[Lady Antebellum] Country roads, take me home
[Blake Shelton] To the place I belong
[Carrie Underwood] (And I will always love you)
[George Strait] West Virginia, mountain momma
[Martina McBride] (I will always love you)
[Darius Rucker] Take me home country roads
[Jason Aldean] On the road again
[Rascal Flatts] Like a band of gypsies we go down the highway
[Jason Aldean] We're the best of friends
[Willie Nelson] Insisting that the world keep turning our way
[Willie Nelson] Turning our way
[Brooks & Dunn] Country Roads
[Alabama] (Country Roads)
[Brooks & Dunn] Take me home
[Alabama] (Take me home)
[Darius Rucker] To the place I belong
[Little Big Town girls (Karen and Kimberly)] And I will always love you
[Brett Eldredge] West Virginia, Mountain Momma
[Reba] (I will always love you)
[Keith Urban] Take me home, country roads
[Reba] Oh I hope life treats you kind
[Reba] And I hope you have all you dreamed of
[Alan Jackson] I wish you joy and happiness
[Vince Gill] But above all this I wish you love
(THESE SECTIONS ALL LAY OVER EACH OTHER)
[Carrie Underwood (Brad on 2nd Half Harmony)] And I will always love you, I
[Martina McBride] Will always love you
[Little Big Town Harmony] Take me home, Country roads
[Dierks Bentley/Kacey Musgraves] Take me home, Country roads
[Trisha Yearwood] And I will always love you
[Tim McGraw] On the road again
[Faith Hill] I will always love you
[Alan Jackson] I just can't wait to get on the road again
[Faith Hill] I will always love you
[Luke Bryan] Take me home
[Eric Church] Country roads
[Brett Eldredge] The life I love is makin' music with my friends
[Ronnie Milsap] Take me home, Country roads
[Martina McBride] And I will always love you
[Miranda Lambert/Reba] With my friends
[Jason Aldean] I can't wait to get on the road again
[Little Big Town] Take me home, Country roads
[Dolly Parton] And I will always love you, I'll always love you