This Christmas, the need for help is greater than ever. Help out those in need this holiday season by participating in the Family Giving Tree 2017 Holiday Drive.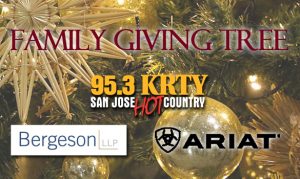 All you have to do is stop by one of the following locations: the KRTY studio at 750 Story Rd or Bergeson LLP located at 2033 Gateway Pl. Suite 300 in San Jose, or at the Ariat Outlet in Gilroy located at 8300 Arroyo Circle to pick up a wish card, fulfill the wish and bring the unwrapped gift back to any of these locations by December 14th.
Help make a difference by bringing joy & happiness to a deserving person this holiday season.