THIS IS WHY YOU DON'T TUNE OUT!
We are thrilled to bring you a VIP experience with Devin Dawson, Tim McGraw & Faith Hill before the huge show at SAP Center on July 29th! 
Tickets are $150 and all of the proceeds will go to AVON 39 The Walk To End Breast Cancer. 
[CLICK HERE TO ENTER TO PURCHASE]
Event D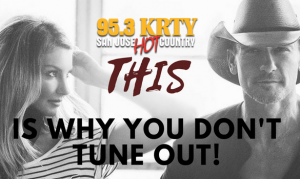 etails:
Check in at 3:15.  Devin Dawson will play for 30 minutes answer a few questions from Gary and Julie and take photos.  Then Tim and Faith will come in at 4:45 and answer questions for 10 minutes and take photos with everyone.