Matthew Faulcon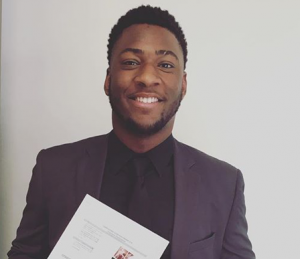 Every Saturday, 7pm-10pm 
Wassup?! Look, I'm not gonna bore you with a full autobiography, although this "bio" is pretty wordy. I'll let you know off the top that I'm just extremely blessed to be here. God has been truly good to me and I'm so grateful. Grateful also to my parents, my grandmother and my brother. Thank you for allowing me to talk y'alls ears off for 21 years, it's finally paying off a bit!
I'm currently striving to attain my degree in Broadcast Journalism while making you laugh on the weekends. You're gonna get a whole lot of crazy words in a row in between some of the best music you've ever heard when I'm on the air. I'm a big time sports guy, so humor me with your hot takes if you dare, Twitter: @Matt_KRTY. I'm also a big Walker Hayes fan. That said, don't be raining on my Mardi Gras parade for a minute!
Special thanks to Nate and Julie for the opportunity, Indiana Al and all the KRTY staff for the training help and to Zach Tatar for being such a great friend and mentor in more than just radio ever since I met him at school. Guys like you are the reason there's such great hope for our world! Thank you for everything.
Also thanks to my extended family, friends, and loved ones who have supported me from the beginning of time(long-winded series coming): Garrett, Sky, y'all are my road dawgs. We done been through it all over the years, man. The ClutchSquad, love you guys to death. Celous, Pia, Paul, Alexa, Zina, Kaila, Jaynessa, Pmo, Alex, Pastor Riley and the Pilgrim COGIC family, Betsy Gebhart and the KJCC family, Lee Hammer and the Cumulus family, and Scott McGrew. My brother, Kenny Jr. and my cousins who are like siblings to me, Daniel and Ruby, you are all so much loved and appreciated.
Fave quote: "You goin' to jaaaaaaaaaaiiiiil! Ooooohh, Lawd!"